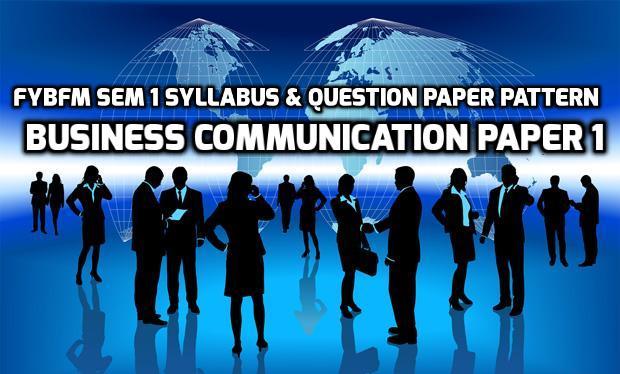 Sharing of information between people working in a business organization to achieve organizational goals or for the benefit of the company progress is known as Business Communication.
Syllabus of Business Communication Paper 1 is as follows:
Unit 1 – Concept of Communication – 9 lectures
Meaning and definition,

Process, functions, objectives, importance and essentials of good communication.

Barriers to communication – overcoming communication barriers.

Various types of communication such as formal, informal and their subtypes.
Unit 2 – Reading – 12 lectures
Reading with fluency and speed,

Ways of reading,

Skimming,

Scanning,

Extensive reading,

Identifying and inferring,

Interpreting,

Collecting and re-ordering relevant information from text.

Vocabulary, Grammar language structure and Punctuation.
Unit 3 – Writing – 12 lectures
Organized presentation of matter – factual/informative, descriptive or persuasive

Editing, summarizing,

7 Cs of Letter writing,

Revision of structure of forms of layout,

Use of computer for letter writing,

Email writing – writing of effective mails.
Unit 4- Business Letters – 12 lectures
Need and functions of business letters

Planning and layout of business letters

Kind of business letters

Essentials of business correspondence.
Question Paper Pattern:
Maximum marks – 75
Questions asked – 5
Duration – 2.5 hours
All questions are compulsory carrying 15 marks each.
Q.1 – Objective Questions: 15 marks
a) sub questions to be asked 10 an to be answered any 8
b) sub questions to be asked 10 and to be answered any 7
(multiple choice / true of false / match the columns, fill in the blanks)
Q.2) Full length question (any 1 out of 2) – 15 marks
Q.3) Full length question (any 1 out of 2) – 15 marks
Q.4) Full length question (any 1 out of 2) – 15 marks
Q. 5) Full length question (any 1 out of 2) – 15 marks
Note:
Full length question of 15 marks may be divided into 2 sub questions of 8 and 7 marks or 3 short notes 5 marks depending upon the topics.
In case of short notes, it is advisable to ask 4 or 5 short notes and the student may be expected to answer 3 out of them.
Attempt is made to cover all the topics. As far as possible, options will be given within the same module so that no module is skipped by the students.