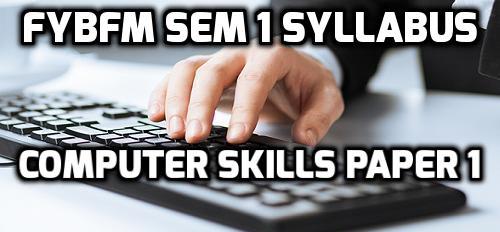 Computer Skills like Microsoft word processing, Microsoft Excel and Microsoft PowerPoint for presentations are essential these days so that they can be listed in your job resume, cover letter, job applications and interviews. A basic computer skill in general is a requirement for many job positions. BFM colleges are expected to upgrade their systems to latest software. In case it is not possible, lower versions of the recommended software may be used to teach the students. The lectures include both theory and practical.
Here we present the detailed BFM syllabus of Computer Skills 1 subject:
Unit 1 – 10 lectures
Computer Hardware

Personal computers – Identification / demonstration of different storage devices like CD and CD drive,

Hard disk – HDD, storing and retrieving data from various storage devices, identification of various input and output devices.

Primary memory,

RAM and ROM – Processor – CPU, its speed machine cycle, ports, computer buses, different type of printers.

Introduction to trouble shooting of personal computers
Unit 2 – 10 lectures
Windows: Introduction, features, various versions of windows,

My computer,

My documents,

Recycle bin,

Network neighborhood,

Start menu,

Taskbar,

File and folder operation (creating, copying, moving, deleting),

System tools,

Creating shortcuts.
Unit 3 – 10 lectures
Internet:

What is internet,

Most popular internet services,

Functions of internet like email,

WW,

FTP,

Usenet,

Instant messaging,

Internet telephony,

Using address book,

Working with task list,

Scheduling appointments,

Reminders,

Events.
Unit 4 – 15 lectures
Word 2013:

Getting started,

The Word window,

New documents,

Document navigation,

Editing text,

Working with text,

Undo and Redo commands,

Cut, copy and paste,

Find and Replace,

Text formatting,

Character formatting,

Tab settings,

Paragraph formatting,

Paragraph spacing and indents

Tables,

Creating tables,

Working with table content,

Changing the table structure,

Page layout,

Headers and footers,

Page setup,

Graphics,

Adding graphics and clip art,

Working with graphics,

Proofing,

Printing,

Exporting,

Spelling and grammar,

Autocorrect,

Printing and exporting documents
Unit 5 – 15 lectures
Excel 2013:

Fundamentals of excel,

Cut, copy, insert, delete, paste special, custom formatting,

Undo, redo,

Excel formulas – basic, useful functions and paste function,

Calc, comments, drawing toolbar,

Edit, replace, delete, clear,

Essential printing,

Data sorting,

Hiding,

Auto formats,

Protection,

Basic charts,

Basic formatting,

If function
Below is the Question Paper Pattern of Computer Skills Paper 1:
Maximum marks – 75
Questions asked – 5
Duration – 2.5 hours
All questions are compulsory carrying 15 marks each.
Q.1) Objective Questions: 15 marks
1) Sub question asked is 10 and any 8 has to be answered.
2) Sub questions asked is 10 and any 7 has to be answered
Q.2) Full length question (any 1 / 2) – 15 marks
Q.3) Full length question (any  1 /2) – 15 marks
Q.4) Full length question (any 1 / 2) – 15 marks
Q.5) Full length question (any 1 / 2) – 15 marks
Full length questions of 15 marks can be asked as 8 or 7 marks question or 5 marks short notes. Options will be given within the same module so that no module is skipped by BFM students.